Local Is Where the Heart Is, and It's Where Your Customers Are Too
At Genesee Media, we understand the pulse, passions, and potential of local businesses. That's why we offer digital marketing services, tailored especially for your business.
Why Choose Genesee Media for Local Digital Marketing?
1. Local Expertise
We aren't about the global giants. Our focus is solely on local businesses, making sure that every strategy and solution we create works in your community and with your customers.
2. Tailored Strategies
Every local business is unique, and its advertising strategy should be too. We create customized digital ad campaigns to boost your local visibility.
3. Cost-Effective Solutions
We believe that every local business deserves top-tier digital advertising. Our solutions are not only effective but also budget-friendly.
Our Local Digital Marketing Business Builder Services Include:
Locally-Targeted Campaigns: Connect with cutstomers more effectively by targeting them right where they are.
Digital Presence: Make sure that your digital front door represents your business in the best way possible to create a great first impression.
Search Optimization: Appear at the top of results when your neighbors search for services you offer. Dominate local search results and drive more traffic to your business.
Digital Strategy: We'll review your business strategy and work with you on a digital strategy that makes business sense for you.
The Customer Journey
Customers naturally progress through a series of stages in their purchasing process, often referred to as the customer journey. While customers might not consciously be aware that they are on a journey, they do know that they are seeking to fulfill their needs. For local businesses, understanding and optimizing the customer journey can make the difference between securing a sale or losing it to a local competitor.
We're with you every step of the journey.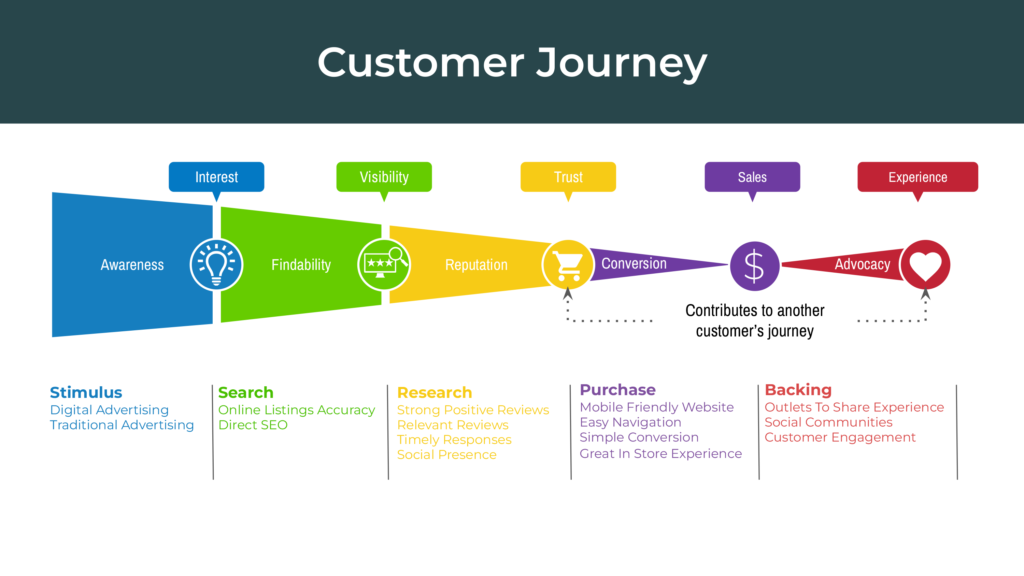 Let's Get Started on Your Digital Marketing Plan
Get in touch with us, and we'll provide a free media assessment and collaborate on a plan to grow your business.
Let's get started on your digital marketing plan – and receive a FREE Digital Marketing Report Card